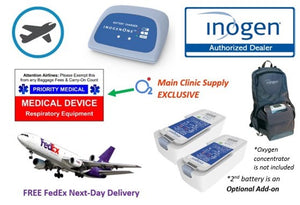 Inogen One G5 Airline Power Bundle - Free Next Day FedEx Overnight Shipping!
Sale price

$995.00

Regular price

Adding product to your cart
The PERFECT power bundle for traveling with your Inogen One G5! 
Not only does this bundle work flawlessly for those patients traveling by airplane, but it is also very popular among oxygen users that are planning for road trips or extended time away from home.  

Your choice of

 

1 or 2 Double-Hour 16 Cell Batteries 

The Inogen One G5 batteries are great for extended use. The 16 Cell Battery is rated up to 9 hours *battery time varies with flow setting.

External Battery Charger

The external battery charger will charge a single or double battery separately from the Inogen One G5 machine. This will allow you to charge multiple batteries at once - helping you get ready for your trip that much faster and also saving time while you are on your trip!

Backpack

This lightweight backpack provides the stability and protection you need for your Inogen One G5 concentrator while you're traveling. Its padded, adjustable straps give you a perfect, comfortable fit. Multiple compartments allow you to carry everything from water bottles to spare batteries with ease.

Airline Priority Tag

 

*Main Clinic Supply Exclusive

The Airline Priority Tag identifies your Inogen One G5 concentrator as a medical device that is exempt from carry-on and baggage charges. This will clear your machine from your baggage count and waive any baggage fees that airlines try to charge for your Inogen One G5 machine.
This power bundle includes all the traveling must-haves for the Inogen One G5. Take advantage of this bundle today for a hassle-free trip that allows you to worry less and enjoy your journey with ease!
*Please Note: This bundle does not include the Inogen One G5 concentrator. 
Recent

Verified Reviews and Ratings from our Customers, Coast to Coast.
Use left/right arrows to navigate the slideshow or swipe left/right if using a mobile device