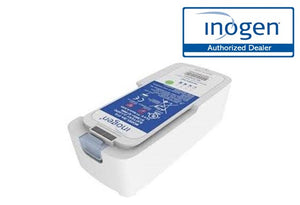 Inogen One G5 Large Extended 16 Cell Battery - Free Shipping!
Sale price

$569.00

Regular price

Adding product to your cart
For oxygen therapy users, the Inogen One G5 Double Battery provides the extended battery life you need to enjoy hours of uninterrupted freedom. With two lightweight lithium-ion batteries, the Inogen One G5 can deliver up to 13 hours of battery life per pair. That's almost double the single battery life, giving you the flexibility to take short trips or all-day excursions without stopping to recharge.
The extra Inogen One G5 battery is easy to swap when your first battery runs out. Just replace it with a fully charged backup battery so you can keep doing the activities you love. Whether shopping, traveling, sightseeing or anything in between, the double battery lets you stay out longer with reliable, portable oxygen.
Don't let your oxygen needs limit your independence. The Inogen One G5 Double Battery enables users to reclaim their freedom and spontaneity. Order your extra battery today and rediscover the possibilities with up to 13 hours of uninterrupted portable oxygen from the leaders in oxygen therapy.
What kind of battery is the Inogen G5 Extended Life Large Battery
A lithium-ion battery has three main components - a positive electrode (cathode), a negative electrode (anode), and an electrolyte in between.
The cathode is typically made of a lithium metal oxide, like lithium cobalt oxide or lithium iron phosphate. The anode is usually made of graphite or silicon.
Lithium ions flow from the anode to the cathode through the electrolyte during discharge. This flow of ions generates electricity that powers the device.
An external power source applies a voltage that forces the lithium ions to flow back to the anode during charging. This restores the battery to its original charged state.
Lithium-ion batteries are rechargeable and can undergo hundreds to thousands of discharge/charge cycles. However, they degrade over time as the electrodes change shape physically.
Key advantages of lithium-ion batteries are their high energy density, low self-discharge, and no memory effect. This makes them well-suited for Inogen One portable oxygen machines.
Specifications of the Inogen G5 Large Extended Battery
| Product Features | Specifications |
| --- | --- |
| Manufacturer | Inogen |
| Product Weight | 12 ounces |
| Battery Duration | Up to 13 hours |
| Battery Charging Time | Approximately 3 hours |
| Recharges | In 3 hours with AC or DC power supply |
| Built-in Battery Level Meter | Yes |
| Quick Release Button | Yes |
| Slip Resistant Pads | Yes |
| FAA Approved | Yes |
| Warranty | 1 Year Standard Warranty |
Use left/right arrows to navigate the slideshow or swipe left/right if using a mobile device