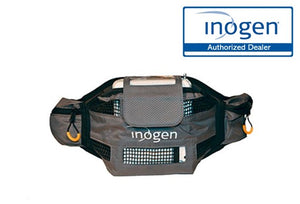 Inogen One G4 Hip Bag
Sale price

$65.00

Regular price

Adding product to your cart
One of the best things about the Inogen portable oxygen concentrator machines is how compact and lightweight they are. They can be carried over the shoulder, in hand, or even around your waist. 
Most users find waist carrying preferable, as it allows truly hands-free operation. This stylish portable oxygen concentrator fanny pack is specially designed for the G4 for this ease of use. 
Inogen One G4 FannyPack or Hip Pack Features
Don't let your oxygen needs get in the way of an active lifestyle. The Inogen One G4 Hip Bag allows you the convenience to stay on the move whilst receiving a steady supply of oxygen from your portable Inogen G4 oxygen concentrator. 
It comes with the following premium features:
Thermoformed Belt
An innovative padded thermoformed belt provides an ergonomic design, total security, and the utmost comfort. 
The material is strong and durable yet comfortable enough to wear all day. And because this bag was designed specifically for the Inogen G4, you can rest assured it will fit perfectly, and transport the weight safely, use after use. 
Side Pockets
Two handy side pockets allow you to safely stow away your spare Inogen G4 batteries. Need to accommodate small personal items? They can take care of those for you, too. 
The pockets are fitted with zips and loops which makes them easy to open and close. Plus, you don't have to worry about losing anything while out and about.
Understated Modern Design
Just because you need to travel with your oxygen concentrator doesn't mean it needs to stand out. This attractive gray fanny pack with its easy-lift flap will complement anything you wear.
With its understated yet modern design, the Inogen G4 hip bag looks like any other well-designed fanny pack. However, it's a cut above the rest. The G4 hip bag is constructed from durable materials to last and is made to fit the dimensions of your portable G4 machine. 
Inogen One G4 Hip Bag Price
It doesn't have to cost a lot to have the ultimate convenience. Travel in style and comfort while enjoying the hands-free operation of your portable oxygen concentrator, for the low price of $65.00.
Free Delivery 
We know you're excited to get your hands on this product and start reaping the benefits of true portability. But why pay more than the price, just to get your purchase delivered to your door? 
As an authorized dealer of Inogen products, we offer free FedEx delivery on the entire range. 
Your Purchase Includes
The Inogen G4 Hip Carry Bag with:
Thermoformed Belt

Robust materials

Comfortable Padding

Side Pockets For Battery Storage/ Personal Items Storage

Modern, Attractive Design

Attractive Gray Color

And

FREE

FedEx Delivery
Call us today to learn more about our range of portable oxygen concentrators and accessories: 1-800-775-0942
Recent

Verified Reviews and Ratings from our Customers, Coast to Coast.
Use left/right arrows to navigate the slideshow or swipe left/right if using a mobile device