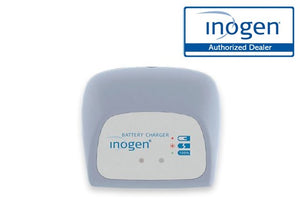 Inogen One G3 External Battery Charger - Free Next Day FedEx Overnight Shipping
Sale price

$314.00

Regular price

Adding product to your cart
Inogen oxygen concentrator users worldwide have come to know and love the freedom of mobility again, thanks to their machines' long-lasting batteries. These batteries make it possible for them to lead active lives, and even go on trips with their families. 
But to get the most from your new lease on life, you need an external battery charger designed for use with the Inogen oxygen machine. 
Inogen Battery Charger Features
What does the Inogen One G3 External Battery Charger do for you? It's the manufacturer-approved external charger for your G3 portable oxygen machine's batteries. And it provides you with the following benefits:
Batteries Charge At Home While You're Out
A backup battery charged and ready to go, waiting for you at home, means you can go out more often and stay out longer. So if you use an Inogen G3 Oxygen Concentrator machine and want to have even more freedom of movement, this is the charger for you.
Charges Both Single or Double Batteries
Whether you need to charge single or double batteries, simply leave them on charge in the Inogen Battery Charger. And when you get home after a long day, your charged batteries will be ready for you. 
Go Out More, Stay Out Longer
A respiratory disorder doesn't have to keep you confined indoors. With Inogen portable oxygen concentrators and long-lasting batteries, you can venture out of the house again. 
But true freedom rests on having freshly charged, spare batteries for your Inogen G3. This external charger allows you to stay out more often and for longer.
Batteries Charge Wherever You Need Them To
Have you been putting off that vacation because you fear your batteries won't last? Go ahead and book that trip. You'll never run out of a supply of charged batteries for your G3 machine. 
No matter if it's a cruise or a stay at a seaside resort, just leave your spare batteries on charge in your cabin or suite. When you return from socializing and seeing the sights, your next batch of charged batteries will be ready for your next adventure.
Inogen One G3 External Battery Charger Price
With Main Clinic Supply and Inogen, you get top-quality medical-grade products that are efficient and affordable. For only $314, you'll have the convenience of charged batteries at any time. 
Now you can have portable power that suits your active lifestyle. Get your Inogen Battery Charger today.
Free Next-Day FedEx Delivery With Overnight Shipping
You don't have to wait any longer to get back to your active life. We'll get your Inogen battery charger to you in a day.
With overnight shipping and next-day delivery through FedEx, you'll be enjoying the freedom you crave, sooner than you think. And this speedy delivery is absolutely free. 
Your Purchase Includes
The Inogen Battery Charger for us with the G3 oxygen concentrator, and :
AC Power Supply

Charging Capability For Single And Double Batteries

FREE

Overnight Shipping And Next-Day FedEx Delivery!
Call us today to learn more about our portable oxygen concentrators, batteries, and battery chargers: 1-800-775-0942
Recent

Verified Reviews and Ratings from our Customers, Coast to Coast.
Use left/right arrows to navigate the slideshow or swipe left/right if using a mobile device