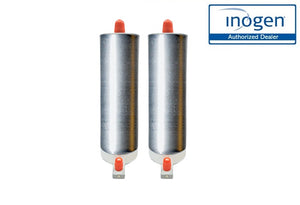 Inogen One G3 Column Filters (Pair)
Sale price

$129.00

Regular price

Adding product to your cart
Your Inogen One G3 machine contains a removable and replaceable sieve filter that removes inert gases from the surrounding air. This concentrates that air into medical-grade oxygen. The filter works hard for a long time but should be replaced yearly.
To ensure that your machine is always operating at its best and producing the correct concentration of clean oxygen, have a pair of replacement column filters on hand. 
Inogen One G3 Column Filter (Pair) 
This is what you can expect from our incredible deal on a pair of Inogen One G3 Column Filters:
Ease Of Use
These filters are easy to install and remove. There's no guesswork involved. Your G3 machine will tell you when it needs new filters. When you see an "O2 Service Soon" message on your oxygen concentrator's display screen, you'll know that it's time to replace the column filters.
If you're uncertain about how or when to replace your filters, just call the 24-hour technical support line. You received lifetime access with your purchase of an Oxygen Concentrator here at Main Clinic Supply! 
Inogen One G3 Column Filter Price
To continue operating at peak performance, Inogen One G3 filters need to be replaced every year, but why pay more for your Inogen One G3 replacement columns than you have to? 
We offer you TWO of these specially designed G3 filter columns at an affordable price of just $129.00. So your machine will always operate at its best, without a hefty price tag.
Free Delivery
With Main Clinic Supply, there's no delivery fee and no waiting in a queue for a package. We deliver via FedEx directly to your door.
As with all the range of Inogen products, you can look forward to a free FedEx delivery with your purchase of the pair of G3 Column Filters.
Your Purchase Includes
A pair of Inogen One G3 Column Filters with:
Freedom to use these filters on

all

settings.

Long-lasting and durable design

And

FREE

FedEx delivery
Call us today to learn more about our portable oxygen concentrators and accessories: 1-800-775-0942
Recent

Verified Reviews and Ratings from our Customers, Coast to Coast.
Use left/right arrows to navigate the slideshow or swipe left/right if using a mobile device