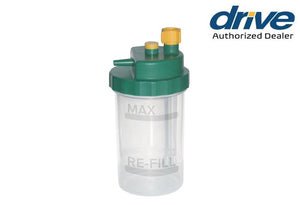 Drive Humidifier Bottle (4 Pack)
Sale price

$20.00

Regular price

Adding product to your cart
Do you use an oxygen concentrator for a respiratory problem? Long-term supplemental oxygen therapy carries the risk of your upper respiratory system suffering dryness or irritation. 
This side effect of continuous flow oxygen treatment is greatly reduced with a humidifier. And as an authorized Drive Medical products dealer, we offer this essential humidifier water bottle in a handy 4-pack.
Drive Humidifier Bottle For Oxygen Concentrator Features
The Drive Humidifier Bottle has been specially designed for oxygen concentrator machines. 
You'll enjoy the following benefits:
Easy To Install
Depending on which oxygen machine you use, there may be a small shelf for a water bottle, or even a strap to hold it in place. 
Regardless of the model machine you have, installing the humidifier bottle couldn't be easier. Simply insert one end of the adapter tubing into the top of the bottle cap and attach the opposite end to the outlet port on your oxygen concentrator.
Anti-Leak Screw-On Lid
The bottle's multi-threaded lid ensures a snug fit every time. This prevents leaks and spills which also reduces maintenance issues with your oxygen machine.
Take note: These bottles must be used exclusively with constant-flow concentrators
Non-Toxic & Safe For Everyday Use 
The 500 ml capacity water bottle is constructed from non-toxic materials, contains no aluminum, and has a soft plastic diffuser which reduces mineral build-up issues. 
It's compatible with a constant oxygen flow of up to 15 LPM. Finger grips at the top of the water bottle make unscrewing and tightening the lid much easier. 
Clear Refill & Max Level Markings
Poor eyesight can make it difficult to spot the markings for minimum and maximum levels on water bottles. But Drive takes the guesswork out of when to refill your water bottle, or how much to fill it. The bottle itself is translucent, allowing enhanced visibility of water levels. 
The Refill and Max Levels are very clearly marked with stripes indicating the levels, as well as lettering in an easily legible, extra-large font. That means there's no chance of you overfilling the bottle, or waiting too long to refill it again.
Water Bottle For Oxygen Concentrator Price
Don't take the risk of using water bottles not designed for the purpose. You know you're getting the best quality at the best price at MainClinic Supply. For only $42, you'll receive a 4-pack of these top-grade humidifier water bottles.  
Free FedEx Delivery 
Here at Main Clinic Supply, you know you can count on medical-grade products that don't break the bank. And it's not just the individual prices that are affordable. What you see is what you pay.  
Your 4-pack of water bottles for your constant-flow oxygen concentrator machine will be delivered to you free of charge, via FedEx couriers. 
Your Purchase Includes
The Water Bottle For Oxygen Concentrator with:
Easy Installation

Sturdy Materials

Refill & Max Level Markings - Easy To Read Bold Lettering 

And

FREE

FedEx Delivery.
Call us today to learn more about our portable oxygen concentrators and accessories: 1-800-775-0942
Recent

Verified Reviews and Ratings from our Customers, Coast to Coast.
Use left/right arrows to navigate the slideshow or swipe left/right if using a mobile device