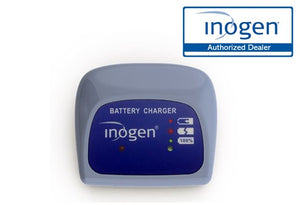 Inogen One G4 External Battery Charger Free Next Day Fedex Overnight Shipping
Sale price

$314.00

Regular price

Adding product to your cart
Oxygen users worldwide have come to love the freedom of portable, battery-powered oxygen concentrators. It's made it easier for them to continue with their daily routine, and even go on vacations. To get even more outdoor use out of yours, you need the G4 external battery charger. 
The knowledge that you've got a backup battery charged and ready to go, waiting for you at home, makes all the difference. And you can have that with the G4 external battery chargers, designed to work with your Inogen One G4 batteries.
Inogen One G4 External Battery Charger Features
Why do you need the Inogen One G4 External Battery Charger? It's the manufacturer-approved external charger for your G4 portable oxygen machine's batteries. And this product includes some amazing benefits:
Charges At Home While You're Out
Do you stress about arriving home after an outing with no charged batteries? Relax, there's a solution. You never have to fear last-minute itinerary changes that keep you out longer. You'll arrive home to fully charged batteries each time, with the Inogen One G4 External Battery Charger.
Charge Single or Double Batteries
Simply leave your spare batteries on charge at home in the G4 External Charger. It doesn't matter if you need to charge double or single batteries, it's capable of doing both. Now it's possible to arrive home, pick up a fresh battery, and be on your way again. 
Stay Out For Longer
A respiratory disorder shouldn't confine you to your home. The Inogen G4 can be as portable as you need it to be. But to truly enjoy that freedom, you need a constant supply of charged batteries. The external G4 charger allows you to stay out more often and for longer.
Charges Batteries Even While On-The-Go
Have you been longing to go on a vacation with the kids or grandkids? Now you can, without ever running out of charged batteries for your G4 oxygen machine. 
Go out for a day of sightseeing with your Inogen One G4 and your charged batteries. Leave your spare batteries on charge in your G4 external charger. When you return, your next batch of charged batteries will be waiting for you.
Inogen One G4 External Battery Charger Price
With Main Clinic Supply and Inogen, you know you'll get top-quality medical-grade products at the best prices. For only $314, you'll have the convenience of charged batteries at all times. 
Don't be caught without portable power; get your Inogen One G4 External Charger today.
Free Next-Day FedEx Delivery With Overnight Shipping
We know you're ready to get out and live your life to the fullest again. That's why we don't make you wait longer than you need to.
With overnight shipping and next-day delivery through FedEx, you get to enjoy the freedom of external battery charging, sooner. And it's free!
Your Purchase Includes
The Inogen One G4 External Battery Charger with:
AC Power Supply

Charging Capability For A  Single Or Double Battery

FREE

FedEx Delivery, Shipped Overnight & At Your Door The Next Day!
Call us today to learn more about our portable oxygen concentrators, batteries, and chargers: 1-800-775-0942
Recent

Verified Reviews and Ratings from our Customers, Coast to Coast.
Use left/right arrows to navigate the slideshow or swipe left/right if using a mobile device