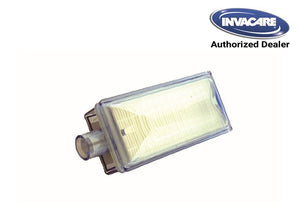 Invacare Platinum 10 Inlet Filter
Sale price

$25.00

Regular price

Adding product to your cart
That's why the React Health (formerly Invacare) Platinum 10 has a specialized filter that stops dust and debris from making it into the machine and minimizes operational noise. It's easy to install and replace, which makes users' maintenance a breeze.
But to keep your Invacare machine working properly, this filter needs to be replaced regularly.  And we have the Invacare Oxygen Concentrator Replacement Filter you need, right here.
React Health Oxygen Concentrator Filter Features
With the React Health Oxygen Concentrator Filter, you'll enjoy all these benefits:
Protection For Your Machine
Any machine, including your oxygen concentrator, can be hampered by household dust and debris. It gets into the inner workings of the machine, where if left unchecked, it can cause damage. That's why React Health's Platinum 10 oxygen concentrator relies on this filter to keep these dust particles at bay.
Protection For You
This filter doesn't just protect your machine and keep it operating at maximum efficiency, it does the same for you, too. By eliminating dust and any airborne agents in their tracks, you don't have to worry about them affecting your breathing. In this way, the filter protects both your machine and you.
Noise Reduction
Yet another sterling benefit of the React Health Oxygen Concentrator Filter is its ability to dampen the machine's noise. Although every effort is made to produce oxygen machines that are not noisy, there will always be a low level of sound while it's operational. This filter minimizes that sound.
Easy Maintenance
Maintenance doesn't get easier than this. Simply remove the cover to the left of your React Health Platinum 10 machine, remove the old filter, and replace it with the new one. 
React Health Oxygen Concentrator Filter Price
Considering all these benefits, you'd be prepared to pay top dollar for such a filter. However, that's not necessary when you purchase through Main Clinic Supply, as we keep prices affordable for everyone. 
For only $35, you can improve the functioning of your machine and the air that you breathe. 
Free FedEx Delivery Of Your Invacare Filter
Unlike other suppliers, we don't expect large purchases before offering free delivery. It's available on all products, including the React Health Oxygen Concentrator Filter. You'll enjoy these air-filtering benefits with free delivery, via FedEx couriers.
Your Purchase Includes
A React Health Oxygen Concentrator Inlet Filter,  that :
Filters Dust From The Air

Keeps Airborne Debris Out Of Your Oxygen Machine

Protects You From Breathing In Dust & Harmful Particles

Is Quick & Easy To Replace

And Is Delivered Free With FedEx
Call us today to learn more about our portable oxygen concentrators, filters, and accessories: 1-800-775-0942
about our portable oxygen concentrators, filters, and accessories: 1-800-775-094

Recent

Verified Reviews and Ratings from our Customers, Coast to Coast.
Use left/right arrows to navigate the slideshow or swipe left/right if using a mobile device