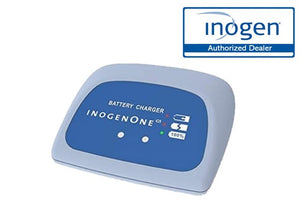 Inogen One G5 External Battery Charger - Free Next Day FedEx Overnight Shipping
Sale price

$314.00

Regular price

Adding product to your cart
Portable, battery-powered oxygen concentrators have changed the lives of oxygen users around the world. It's made it easier for people like you to get back into a daily routine, and even travel. So it's time to take it and get even more benefit out of yours with the external G5 battery charger. 
On those extended trips that drain your Inogen One G5's battery, it helps to know you've got a backup battery ready to go. Now you can have that, every time, with an external battery charger for the Inogen One G5 oxygen concentrators. 
Inogen One G5 External Battery Charger Features
Why do you need the Inogen One G5 External Battery Charger With Power Supply? It's specially designed for use with the G5 portable oxygen machine, and these life-changing benefits await you:
External Charging
What will you do when you arrive home with no charged batteries? Are you doomed to stay indoors again? No, you don't have to worry about spur-of-the-moment plans that keep you out longer. You'll arrive home to fully charged batteries every time, with the Inogen One G5 External Battery Charger.
Charge A Single or Double Battery
Think you may want to pop out again soon after returning home? Simply leave your spare batteries on charge at home - the G5 External Charger can charge a single or double battery. That makes it simple to just swing by your home and pick up a fresh supply of charged batteries.
Stay Away From Home Longer
The Inogen G5 was designed to be portable and give you a taste of freedom again. It does so very well, and the battery lasts a long time, but there's always that worry at the back of your mind. What if your plans change during the day and you decide to stay out far longer? 
Charge While On Vacation
Don't put off that vacation with the kids or grandkids. 
Simply head out for a day of sightseeing with your G5 and charged batteries. Leave your spare batteries on charge back at the guesthouse or hotel suite with your G5 external charger. 
Inogen One G5 External Battery Charger Price
With Main Clinic Supply and Inogen. You always get top-quality medical-grade products at the best prices. 
For only $314, you'll taste true freedom again. Never get caught without portable power again; get your Inogen One G5 External Charger today.
Free Next-Day FedEx Delivery With Overnight Shipping
We know you're eager to get mobile again so we won't make you wait more than a day. 
That's right, thanks to overnight shipping, you'll have next-day delivery through FedEx. And like all the Inogen products we supply, you won't pay a cent extra for delivery!
Your Purchase Includes
The Inogen One G5 External Battery Charger with:
AC power supply

Capacity to charge a single or double battery

And

FREE

FedEx Delivery, Shipped Overnight & Delivered The Next Day!
Call us today to learn more about our portable oxygen concentrators, batteries, chargers, and accessories: 1-800-775-0942
Recent

Verified Reviews and Ratings from our Customers, Coast to Coast.
Use left/right arrows to navigate the slideshow or swipe left/right if using a mobile device