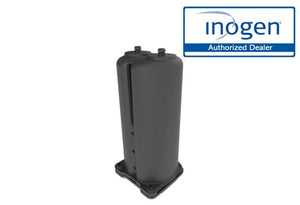 Inogen One G5 Column Filter (Pair)
Sale price

$129.00

Regular price

Adding product to your cart
Your Inogen One G5 machine contains columns with built-in filters. These removable sieve filters remove inert gases from the air around you, concentrating that air into medical-grade oxygen. 
These columns last a long time while doing this important work but eventually need to be replaced. The general recommendation is to replace the column filters yearly for best results. 
To ensure that your machine is always performing at its peak, and producing the right concentration of clean oxygen, replace your column filters as needed. Buy your Inogen One G5 replacement columns here.
These are the top benefits you'll enjoy when you buy a pair of Inogen One G5 Column Filters:
Inogen One G5 Column Filter (Pair) 
Easy To Install & Replace Filters
These filters are easy to install and replace. Your Ingeon G5 machine will tell you when it has determined the filters are at the end of their life and needs to be replaced as soon as possible.  When you see an "O2 Service Soon" message on your oxygen concentrator's display screen, it's time to replace the column filters. 
If you are unsure about how or when to replace the columns on your Inogen One machine, just give the 24-hour technical support line a call at 1-800-595-3551. You'll get lifetime access with your purchase of your Oxygen Concentrator here at Main Clinic Supply, and they can assist you with any oxygen machine-related queries. 
Made To Fit The Inogen One G5 Oxygen Concentrator
Always use genuine parts and authorized dealers like Main Clinic Supply for your oxygen concentrator needs. These column filters are designed specifically for use in the Inogen One G5 oxygen machine.
The average lifespan of these column filters under typical conditions is 12 months. Your unique usage and environment in your home, outdoors, or while traveling can affect how frequently you need to replace them. 
Inogen One G5 Column Filter Price
To continue operating as it should, your Inogen One G5 filters need to be replaced regularly. But you don't have to fear that the price will break your budget.  
We offer you TWO of these specially designed Inogen One at the low price of just $129.00. This means everyone can afford to keep their oxygen machines operating at maximum efficiency,  for a minimum price.
Free Delivery With FedEx
With Main Clinic Supply, you get medical-grade products at great prices and no delivery fee. Your G5 columns will be delivered to your door, safely and securely.
Like the entire range of Inogen products that we stock, we trust FedEx delivery with your purchase of the pair of these G5 Column Filters.
Your Purchase Includes
A pair of Inogen One G5 Columns with:
Sieve Filters That Remove Inert Gases From Air

Exact Specifications To Fit Your G5 Machine

Long-Lasting And Sturdy Design

And

FREE

FedEx Delivery
Call us today to learn more about our portable oxygen concentrators, filters, and accessories: 1-800-775-0942

Recent

Verified Reviews and Ratings from our Customers, Coast to Coast.
Use left/right arrows to navigate the slideshow or swipe left/right if using a mobile device