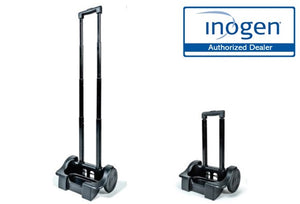 Inogen One G5 Cart
Sale price

$150.00

Regular price

Adding product to your cart
As an authorized dealer for Inogen products, we're proud to offer you the Inogen portable oxygen concentrator cart. Now your Inogen oxygen machine can go everywhere you go. Wheel it along with you in this stylish and strong trolley cart, built to safely transport your Inogen oxygen machine. 
Want to take your oxygen machine with you for a stroll in the park? Or how about a trip to the local fair? You can do it, as your Portable Oxygen Concentrator Cart allows you to transport your Inogen oxygen machine with ease. 
These are the top features of the Portable Oxygen Concentrator Cart:
Portable Oxygen Concentrator Cart Features
Telescopic Handle
No matter your height or mobility you'll find using the portable oxygen concentrator cart a pleasure. Don't bend, stoop or strain yourself to pull your oxygen machine along with you. The cart has a telescopic handle similar to modern luggage bags. 
Just pull it up to a height that's comfortable for you, and wheel it along. When you're done using it, the handle folds back down for easier storage. This makes it convenient to stow away until you need it again. 
Robust Materials With Rugged Construction
A rugged build can still look stylish when the right materials are used. With its stylish and simple design, you can take the portable oxygen concentrator cart anywhere you choose. 
No terrain is a problem, as this cart is built to withstand many types of surfaces. Built to last out of durable materials, it will help you stay mobile and carefree. 
Sturdy Wheels & Wide Wheelbase
The strong wheels and wide wheelbase are what give this cart stability. No matter the environment or the terrain, the wheels keep turning smoothly and the cart will remain stable.
Don't worry about your machine falling over if you hit a slight hump in the road. It protects your machine against knocks and bumps and prevents accidental falls.
Portable Oxygen Concentrator Cart Price
This oxygen concentrator travel cart can be used with the Inogen One G5 machine, for easy transportation. And priced at only $150, it's budget-friendly, too.
Free FedEx Delivery
Everyone has the right to medical-grade oxygen products and accessories. That's why we keep our standards high but our prices low. There are no hidden costs or surprises when it comes to shipping and delivery. 
Your portable oxygen concentrator cart will be delivered completely free, to your door, with FedEx.
Your Purchase Includes
The Portable Oxygen Concentrator Cart comes with:
Simple, Elegant Design

Robust Materials & Construction

Wide Wheel Base For More Stability

Thick, Strong Wheels For Rough Terrains

Telescopic Handle

FREE

FedEx Delivery.
Call us today for more information about our portable oxygen concentrators, batteries, chargers, and travel carts: 1-800-775-0942


Recent

Verified Reviews and Ratings from our Customers, Coast to Coast.
Use left/right arrows to navigate the slideshow or swipe left/right if using a mobile device