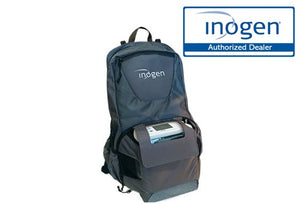 Inogen One G5 Backpack
Sale price

$110.00

Regular price

Adding product to your cart
We understand that you need to be able to carry your oxygen machine with you, but also have your hands free. The backpack for the Inogen One G5 oxygen machine is what you've been waiting for.
The Inogen One G5 Backpack has the good looks of a hiking or travel backpack. But it offers so much more than that. 
Take a look at these exciting features which make commuting with your Inogen G5 machine a pleasure.
Inogen G5 Backpack Features
Attractive Styling
You have to take your oxygen concentrator with you, but that doesn't mean you have to look out of style. 
This product combines the attractiveness of a conventional backpack with the requirements of an Inogen One G5. The neutral gray color and simple design scheme will complement your attire and your lifestyle. 
Practical & Durable
Like all of Inogen's oxygen concentrators and related products, the G5 Backpack is strong, reliable, and durable. Want to know the secret? It's made with strong materials and the latest in manufacturing design. 
Constructed specifically for the G5 oxygen concentrator's dimensions, it allows you to transport your machine with ease. Compartments, flaps, and zips are made to last, even with everyday use. Accessing and securing your machine is made simple with the see-through flap.
Comfortable, Adjustable Straps
No backpack is comfortable without the right straps. These straps are adjustable and strong enough to take the weight of your G5 machine. But they are soft and comfortable enough for regular wear. 
Lightweight Design 
The best thing about the Inogen One G5 backpack is its sleek and lightweight design. You'll never want to leave home without it.
Multiple Storage Compartments
What about storage? It not only safely accommodates your G5 machine, but other small items too. Thanks to the side pockets and multiple compartments, you can also carry spare batteries, a water bottle, or even your keys and wallet with you. 
Inogen One G5 Backpack Price
The Inogen One G5 backpack is a real game-changer when it comes to oxygen users' mobility. And you get all these benefits for the low price of $110.00.
Free Delivery 
As an authorized dealer of Inogen products, we offer free FedEx delivery on the complete range of Inogen oxygen concentrators and accessories. Your Inogen G5 Backpack will be delivered to you at no extra cost, quickly and safely.
Your Purchase Includes
Your Inogen G5 Backpack with:
Durable But Attractive, Sporty Design

Adjustable Straps

Comfortable Padding

Easy-Pull Zips

Multiple Storage Pockets & Compartments 

And

FREE

FedEx Delivery
Call us today to learn more about our portable oxygen concentrators, carry bags, and accessories: 1-800-775-0942
Recent

Verified Reviews and Ratings from our Customers, Coast to Coast.
Use left/right arrows to navigate the slideshow or swipe left/right if using a mobile device